We are proud to be part of the Kingdom of the Netherlands as indeed, our roots go deep in history, all the way to the Netherlands in the 1500s, 1585 to be exact, the year of the establishment of the University of Franeker. This remarkable university continued in its original form until it was disbanded by the French Emperor Napoleon in 1811 and eventually ceased operations even its in in Athenaeum form in 1843. However, the 'ashes of Franeker' remained smoldering as its enduring vision to harmonize science, philosophy, research and theology remained increasingly relevant. 
One hundred and eighty years later, the flame was reignited by means of a memorial university charter approved the Ministry of Education, Science, Culture and Sports (Willemstad, Curaçao, Kingdom of the Netherlands). The charter granted to the Euler-Franeker Memorial University (Foundation) the legal right to revive the legacy and vision of this remarkable Dutch institution while also commemorative for the first time in a university name the profound legacy of Leonard Euler.
Not only did EULER (Euler-Franeker Memorial University) inherit the responsibility of maintaining the memory and legacy of the University of Franeker (it does so among other means by maintaining the https://universiteitfraneker.nl/ website – image below); it also inherited the responsibility to pass on the knowledge and spirit of the great mathematicians Leonhard and Johann Euler.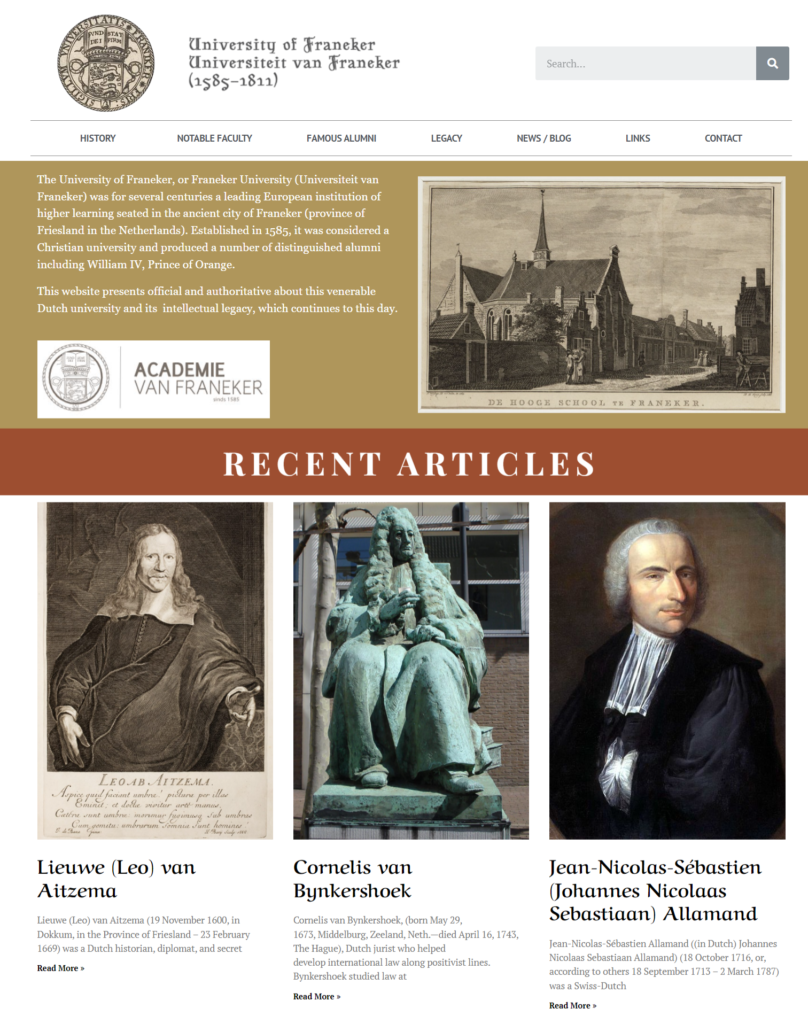 The vision to reignite this academic vision was made possible by the support of another institution named after a famous mathematician: EUCLID (Euclid University). EUCLID is a specialized intergovernmental organization established in 2008 (United Nations Treaty Series) which was approved as a Social Actor by the Ministerial Council of the Association of Caribbeans States (ACS). EUCLID's mandate is mainly directly towards diplomats and civil servant, under intergovernmental governance, whereas EULER was conceived with EUCLID to have a different mandate and vision.
Be a part of the ongoing legacy and history of Franeker's 'classic European' academic tradition of excellence.